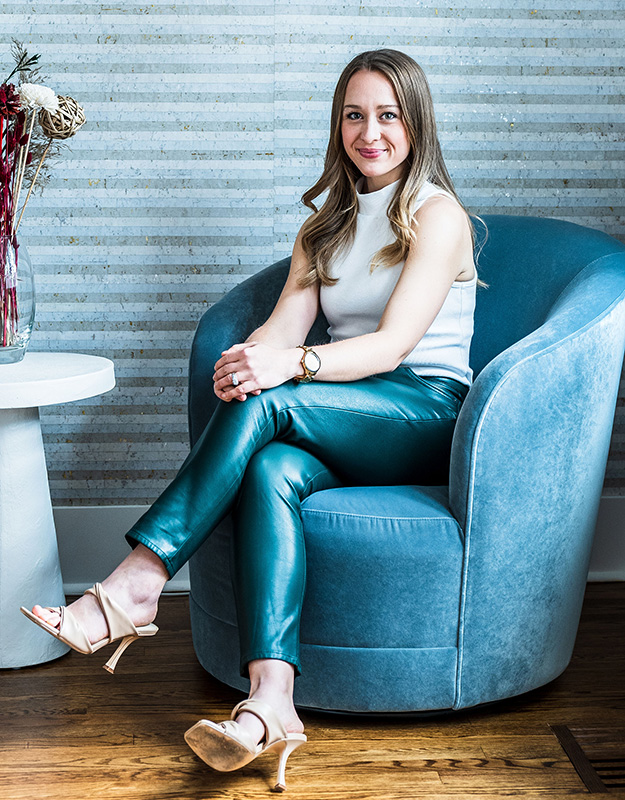 With many years of experience in kitchen and bath design, project management, budget building and schedule organization (not to mention the countless awards and accolades to her name!) you're in very good hands.
Jennifer's early years began in Buffalo, NY where she was the top kitchen designer at her firm, leading to awards and nominations such as the coveted NKBA Thirty Under 30 class of 2020, KBDN Innovator award, Professional Remodeler's Forty under 40, and countless publication features including Forbes and KBB. Before relocating to the triangle, Jennifer operated her own freelance design firm and simultaneously taught a kitchen and bath design course at her alma mater, Villa Maria College, an NKBA affiliated school. Today, Jennifer proudly sits on the SKS Design Council and is a member of the Modenus Media DesignHounds while continuing her education with the NKBA's micro-accreditation program, most recently earning her cabinetry and remodeling specialist badges. In her free time, Jennifer loves to remodel her own homes, giving her the chance to get her hands dirty and appreciate the craft of construction on a personal level.
Designing your dream home can be time consuming, expensive and, if we're being honest, absolutely terrifying. With Jennifer by your side to guide the process and provide expert advice, keep you on track and pull it all together, you can kiss the terror goodbye.
What our fave people had to say
We are so happy to have worked with Jennifer for our kitchen renovation. She helped turn our cramped, disconnected 1920's kitchen and dining room into a bright, open, functional space. She expertly guided us through every single logistical and design detail and communicated everything so quickly and clearly during the whole process. We could not have made our dream kitchen possible without her! I highly recommend her work.
My kitchen and dining area, including the removal of a wall, were long overdue for a makeover. I knew this would be a big job. I had a very rough idea of what I liked, but no true designs in mind. Since my initial meeting with Jennifer Hutton, I have been so impressed and grateful for her ability to create my dream kitchen. She gave me options, patient explanations, and her process of helping me choose cabinets, countertops, colors, hardware, sink, etc was systematic and purposeful. The time she spent with me was always productive and the end result is beyond my wildest expectations! I highly recommended Jennifer!
WOW, we don't even know where to start but let us just say that Jennifer was a savior during our kitchen renovation. Not only did she take us out of our comfort zone and design one amazingly gorgeous kitchen, that we love so much, she was there with us and for us every bump of the way. We had an A-typical renovation that saw so many major bumps along the project. Jennifer was right there and provided help at every step. Jennifer is so professional, knowledgeable, easy to talk with and overall a great person. You can tell Jennifer takes amazing pride in the work she does and it clearly shows. We HIGHLY recommend Jennifer and Artisan Kitchens and Bath for any design and kitchen needs you may have!!